---
About Rosana
About Rosana Shekman and Dallas Prestige Realty
Dallas Prestige Realty
Rosana Shekman
Broker | Owner
972.208.0103
DallasSweetHome@hotmail.com
www.DallasSweetHome.com

As Your Personal REALTOR® for Life, it is my
job to understand your needs and respond to
them promptly, professionally, honestly and
always with integrity. I pledge to provide you
with sound real estate advice based on
knowledge and experience. I pledge to provide
you with answers, and if I do not have the
answers, I will research them for you. I also
pledge to help you understand the wisdom of
the decisions you make
.
• Accredited Buyer's Representative Designation
• Short Sales & Foreclosure Resource Designation
• Member of the National Association of REALTORS®
• Member of the Texas Association of REALTORS®
• Member of the MetroTex Association of Realtors®

My Secret to Success: Hard Work & Dedication
REALTOR® Since 1995

Over 25 Years of Experience + Dedication =
Your American Dream

"Rosana was hired to do a quick sale under very difficult
divorce circumstances ‐ she stayed on top of everything
from day one, provided her advice & alternatives as
situations changed. Incredibly, she managed to get the
house sold in less than 24 hours. We listed the house at
9 a.m. & were signing a contract that evening. She is
realistic, honest, hard working & responsive ‐ I would
recommend her without hesitation."

Mr. and Mrs. Smith

I want to thank you for a terrific job! I really appreciate
how you kept us informed about what was going on. I
also highly value your experience & knowledge of doing
short sales. What you said usually happened! Like your
last prediction ‐‐ 90% sure we would close on Friday the
16th. Things like that gave us confidence in your
information. Thanks again for your help. I think you
made the difference. Being a squeaky wheel in the face
of bureaucratic indifference helps. Well done.
Mr. Thompson

Rosana helped my parents buy their first home in Texas
& has now helped me buy my first house. I was
thoroughly impressed with her professionalism,
promptness & knowledge of the market. I truly felt that
she was always looking out for my best interest through
the entire process. Mr. Stewart

Rosana sold our house in 11 days! With all the stress of
trying to sell our home AND buying another home,
Rosana's "crystal ball" insight helped tame our nerves.
Her expertise in the Forest Creek area is impeccable!
Invite Rosana into your home, be open to her staging
requests, &, most importantly, be willing to make these
changes to sell your home. Mr. and Mrs. Maddock
Mrs. Rosana, I just want to thank you from the bottom of
my heart for everything that you have done for me & my
family. It has been a pleasure having you as our realtor,
& I will give your card to everyone I know that is
interested in purchasing a home. Thank you once again
for making our dreams come true.

Mr. and Mrs. Standberry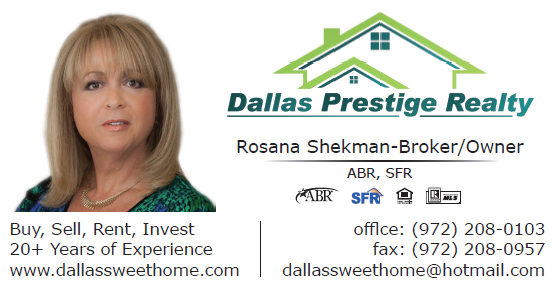 Rosana Shekman , Broker ABR,SFR
Dallas Prestige Realty
Ph: 972-208-0103
Fax:
972-208-0957
TX US
License # 0441302